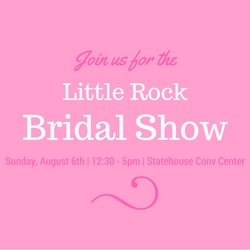 7/21/2017
We would love for you to join us for the Arkansas Democrat-Gazette Little Rock Bridal Show, Sunday, August 6th from 12:30pm to 5pm!
This is your chance to visit and see wedding professionals that are here to help you with your wedding planning!
Swing by our booth and see the lastest trends in bridal and bridesmaids. We are also having a "Wedding Hashtag Contest" where you have a chance to win a $200 gift certificate to our boutique!
We also are launching our new line of Bride t-shirts! You WILL want to take one of these beauties home!
And you won't want to miss the Bridal Fashion Show at 4:30. Aren't able to make it to the Fashion Show? That's ok! Hop on over to our Facebook page where we will be showing it LIVE!
Find out more info by going to www.arkansasbridalcommunity.com.
So excited to meet all our Future Bridal Cottage Brides!